The World's Easiest Guide to... - Book Review
Whitney Hopler

Crosswalk.com Contributing Writer

2002

25 Sep

COMMENTS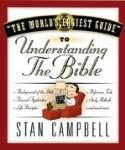 Lots of people own a Bible, or even several.  But too few people actually read and understand God's Word.  And many people in today's society don't have even basic biblical knowledge, unlike in past generations.  So a book like "The World's Easiest Guide" to Understanding the Bible is sorely needed.  Happily, the book succeeds in its mission to pique readers' interest in the Bible and motivate them to dust off their copies and actually use them. 
"The World's Easiest Guide" to Understanding the Bible is very comprehensive, with chapters on how the Bible came into being; what's unique about it; why it's important for people to read it for themselves; and how to read, study, enjoy and apply its words.  The book also includes a tour through the entire Bible that provides fast-paced summaries of the action.  It's peppered with sidebars that deliver interesting background information, Bible verses that are relevant to the main text, and questions that encourage readers to open their Bibles to find the answers.
The book is user-friendly, too.  Its conversational style makes it easy-to-read, and the frequent humor in its pages is a welcome treat, even if it is sometimes a bit corny.  The only feature that doesn't quite work is the "Snapshot" section that opens each chapter.  These fictional scenes, meant to illustrate each chapter's theme, don't consistently relate very well and sometimes prove a bit distracting.
On the whole, however, the book is an excellent tool for just about anyone who wants to discover more about the Bible--from seekers to mature Christians.