"These Will Not Be Left Behind" - Book Review
Whitney Hopler

Live It Editor

2003

21 Jul

COMMENTS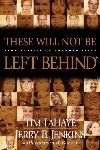 Author:      Norm Rohrer
Publisher: Tyndale House Publishers, Inc.

The "Left Behind" series of novels about events described in the book of Revelation has become a publishing phenomenon.  So far, approximately 57 million copies have been sold – to a wide spectrum of people.  Untold numbers of people may have had their faith stirred by the series.  And co-authors Tim LaHaye and Jerry Jenkins have calculated that they have heard from more than 3,000 readers who have begun or renewed their relationships with Christ because of reading the books.

Now Tyndale House Publishers, which has produced the "Left Behind" Series, has published the nonfiction book, "These Will Not Be Left Behind," to tell the stories of readers whose lives have been transformed by the best-selling novels.  The concept is unabashedly self-promotional.  But many people likely have wondered how the popular books have affected the lives of those in its wide audience.

Veteran writer Norm Rohrer, founder of the Christian Writers Guild (now owned by Jenkins), has compiled accounts of how the Left Behind Series of books has affected the lives of 30 people.  He tells the stories in a style reminiscent of how Guideposts magazine relates tales of God at work, doing extraordinary things in ordinary people's lives.  Although some of the stories he presents are rather unexciting, many of them are quite compelling.  He includes a good mix of people who encountered Christ for the first time after reading one of the novels, and people who have returned to intimacy with Christ after letting their relationship with Him lapse.  "These Will Not Be Left Behind" is divided into five sections, including sections about children, prisoners, and people who read the books "just in time" before they died.

After each story, the book features a page of e-mailed comments from readers who have visited the series' official Web site here.

Get 1 Christian Bestseller for FREE, plus FREE shipping.  Click here for details.