"Think Before You Look" Handbook Addresses Sexual Temptation
Randall Murphree

AgapePress

2006

16 Jun

COMMENTS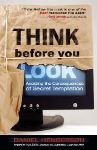 Author:  Daniel Henderson
Title:  "Think Before You Look"
Publisher:  Living Ink
"Think Before You Look" is a top-tier little handbook for the man who wants to find power over secret sexual temptations.
Author Daniel Henderson kicks off the172-page volume with a short introduction, "Considering the Consequences." He compares the ultimate (and hidden) consequences of sin to lung cancer in those who work a lifetime around asbestos; it may go undetected for years, but the consequences will come. He calls pornography "the devil's tool of choice for luring many to a life of destructive consequences."
Forty short chapters outline 40 reasons to avoid pornography. The first is, "I enjoy the pleasure of a love relationship with God." Others include: "I avoid a life pattern of deception," "I refuse the temptation of idolatry," and "I learn to live in reality rather than fantasy." Still others address principles such as achieving authentic intimacy, laying up eternal rewards, earning your wife's trust, and protecting your children.
Henderson urges men, "Think repentance. Think confession ... Trust God for grace to move onward and upward in your pursuit of purity." Finally, he caps off the book with "40 Practical Pointers for Avoiding Pornography."
It's a powerful guide for men, endorsed by Christian leaders such as pastor/author David Jeremiah, evangelist Luis Palau, and Seattle Seahawks running back Shaun Alexander. Henderson is pastor of Grace Church of Eden Prairie in the Minneapolis suburbs.

© 2006 AgapePress.  All rights reserved.  Used with permission.