Thirteen Short Stories Told in One Town
Liz Boltz Ranfeld

Infuze Magazine

2008

2 Jan

COMMENTS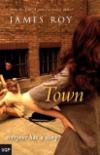 Author: James Roy
Title: Town
Publisher: University of Queensland Press
Town tells the story of thirteen young people in one small town, somewhere in Australia. The specific city and state are never named, which allows it to have a feel of familiarity. Each of thirteen short stories is told from a different perspective, and they all take place over the course of a year. It is another book for young adults by James Roy, an award-winning Australian author.
Of the many different stories, I found several memorable, a few rather boring, and one quite difficult to read. Roy explores different techniques and aspects of the short story, telling some in the first and some in the third person.

I really enjoyed the stories of Veronica, Hattie, and Malith. Malith is a Sudanese refugee, living with his brother and sister in a poor part of town. Hattie, on the other hand, is the daughter of the mayor and a pharmacist. Soon after her sister loses her battle with anorexia, Hattie has to figure out whether she should stay with her grieving parents or escape to another part of the country to live with an aunt.
Veronica's story is perhaps the most entertaining and clever. She is a good girl who has been labeled a "slut," even though she's anything but. Her assumed sexual history gets her into trouble, but her resourcefulness saves the day. The way that she deals with a frightening situation is creative, making her incredibly likeable.
While a few of the stories were moving, I felt like the book on the whole was disjointed. The connections are perhaps too loose. Almost every time I came across a name, I had to look back through the book to see if I'd already been introduced to that character. Because several weren't memorable enough to be recognized immediately, I was spent a lot of time flipping through the book, trying to remember them.
The book had its moving moments, and I think that Roy was trying to address a lot of difficult issues facing teenagers. He definitely doesn't dumb down their experiences with things like family, sex, suicide, exclusion, and loss.
In the end, Town is not earth-shattering in any way, but it is an interesting read.


© 2007 Infuze Magazine. All rights reserved. Used with permission.