T.L. Hines Makes Mark with Second Supernatural Thriller
Kevin Lucia

Infuze Magazine

2007

17 Jul

COMMENTS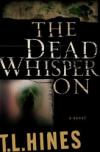 Author: T.L. Hines
Title: The Dead Whisper On
Publisher: Bethany House
In a follow-up to his splendid thriller debut, Waking Lazarus, T.L. Hines hits the ground running with his new supernatural thriller The Dead Whisper On, proving that he's not the taste of the month, but rather a proven writer who's here to stay. Blending elements of ancient mythology with tenets of faith, Hines has once again crafted a contemporary supernatural fantasy that will ensnare readers from the very beginning, and won't let them go until the final plot twist is unveiled.
Candace MacHugh's former life as a miner in Butte, Montana is nothing more than whispers of purpose and meaning she hears only in her imagination as she collects garbage in her small, languishing town. Her father dead, she and her mother estranged, "Canada" wishes for a past that's gone forever, and wonders what good there is left for her to do.
Ephemeral forces beyond her ken and control pull Canada from a dreary existence into an undercover world of subterfuge, covert operations – and something dark, mysterious . . . perhaps even deadly. Somehow, her father's essence has returned from the dead, and not only does he have a message for his beloved daughter, so do many other shadows, as they're called. They have a mission, and as her skepticism gives way to belief, Canada feels reborn, happy to once again be part of something worthwhile, perhaps even noble. However, as her involvement with the shadow world deepens, it becomes clear that perhaps things are not exactly as they seem.
Hines' first novel, Waking Lazarus, was named one of Library Journal's Top 25 Genre Novels of 2006, and there's little doubt that The Dead Whisper On will garner similar awards. Hines's new tale takes elements of ancient mythology—the tale of the Golem, a monster of earth and clay, seeking to wreck vengeance—and mixed it with some good old creeps and crawls. He plays some clever bait and switch games with the good and the bad guys, and creates an excellent genre-mix that's reminiscent of Dean Koontz, Peter Straub, and Stephen King, a.k.a. the big three. His craft is excellent, his story-telling engrossing, and his literary future is bright, indeed.
There are soulful elements as well, as Hines deftly crafts musings about the often misleading desires of the heart, and how easy it is to be distracted by the things we want, rather than the things we need. This, much more so than the later two, places Hines in the same circle as Koontz, as he's quickly becoming a writer who aptly uses the shadows and dark places outside and within, to point us to the light ahead.



© 2007 Infuze Magazine. All rights reserved. Used with permission.