Understanding Love - Book Review
Janet Chismar

Senior Editor, News & Culture

2003

8 Jan

COMMENTS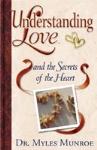 Author:      Dr. Myles Munroe
Publisher:  Destiny Image
It's "Love 101"--a concise text that explains the differences between phileo, storge, eros, agape and how God loves us, as well as how we are to love one another. 
This is a great starter manual for a new believer but not much insight for those raised in the church or for those who have already read other relationship studies.
Munroe's style is simple and clear.  Throw in pull-quotes and a summary of each chapter's main points, and you can breeze through Understanding Love in one, painless sitting. 
If you are new to the faith, you'll take away some important principles, but more seasoned believers may be disappointed at the lack of anything really new.
Used by permission.  CCM Magazine © 2003  Click here to subscribe.