"Waking the Dead" - Book Review
Whitney Hopler

Live It Editor

2003

20 Aug

COMMENTS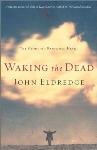 Author:     John Eldredge
Publisher: Thomas Nelson Publishers

John Eldredge, author of the best-selling book "Wild at Heart," tackles a big subject in his newest book, "Waking the Dead: The Glory of a Heart Fully Alive" – God's gifts of freedom and transformation for human hearts.  Once God opens the eyes of a person's heart, he writes, three eternal truths become clear: Things are not what they seem; This is a world at war spiritually; Each of has a crucial role to play.

Eldredge writes with great passion, and that passion should effectively capture readers' interest and motivate them to discover more about the abundant life God wants for them.  But while "Waking the Dead" does much to encourage its readers, it does little to show them practical ways they can apply its message to their lives.  The topic is so general and encompasses so much that readers can easily get to the end thinking "that was nice," but not do anything about it.

The most fascinating part of "Waking the Dead" comes when Eldredge focuses on the great power of stories to communicate eternal truths.  He cites examples from works such as "The Chronicles of Narnia", "The Matrix", and "The Wizard of Oz", and the discussion is so intriguing that readers might wish he had devoted the whole book to this more specific subject.

This is a book that's crying out for a study guide – one that suggests specific ways readers can go through the journey about which Eldredge writes.  Eldredge does include a very long (nearly four pages) suggested "daily prayer for freedom," but readers need more practical tips.  Perhaps they'll get those in a few months; an advertisement in the back of the book mentions that "A Guidebook to Waking the Dead: Embracing the Life God Has for You" will be released in November.

Get 1 Christian Bestseller for FREE, plus FREE shipping. Click here for details.