Walk: Spiritual Insight from ... - Book Review
Lizza Connor

Book Reviewer

2003

11 Jun

COMMENTS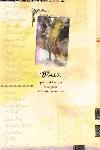 Author:       Mark Moring (General Editor)
Publisher:  Thirsty

There aren't many women I know who would choose to relive adolescence. While the innocence and carefree spirit of the age is a beautiful thing worth remembering, there's also that hard issue of growing up. For a modern teenage girl, this means facing a world of unrealistic standards about beauty, sexuality and ethics, among other things.

"Walk: Spiritual Insight from Your Favorite Musicians" reads like a daily devotional tailor-made for a teenage girl. On each page of "Walk", esteemed Christian musicians such as Nicole C. Mullen, Jaci Velasquez and Rebecca St. James share stories from their own formative years. Caedmon's Call's Danielle Young talks about growing up with an unhealthy body image, while Jennifer Knapp discusses pre-marital sex and drinking and how, through the witness of a Christian roommate, she came to know Christ. Thirty Christian artists are featured, and they adeptly offer wisdom, hindsight and encouragement.

Each segment is accompanied by supporting Scriptures, suggested Bible reading and questions for the reader to consider as she grows emotionally, physically and spiritually. The book also includes a handy index, grouped both by artist and subject matter for quick reference.

Used by permission.  CCM Magazine © 2003  Click here to subscribe.

Get 1 Christian Bestseller for FREE, plus FREE shipping.  Click here for details.