"Walking with Frodo" - Book Review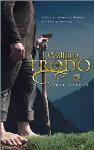 Author:      Sarah Arthur
Publisher:  Tyndale House
For the unacquainted, "The Lord of the Rings" is an epic tale that's spawned a $300 million movie trilogy. Like the popular "Harry Potter" series, the books are thick with its story told in minuscule print, yet teens (and just about everyone else) can't seem to get enough.
In contrast, "Walking with Frodo" is a slim "LOTR for Dummies" of sorts that helps connect the dots between Sunday School and Middle Earth. It's a noble idea: analyzing the choices LOTR characters make and helping teens see the good, the bad and the ugly and apply the appropriate lesson.
The book explores positive and negative choices like pride vs. humility and despair vs. hope and offers Bible verses and study questions. The writing is approachable, the lessons are backed with examples from Tolkien's world, but there's not always a lot of meaty takeaway value. But as a companion to the largely successful series, this book will certainly pique curiosity about the books' deeper messages and practical application.

© 2003 CCM Magazine.  All rights reserved.  Used with permission.  Click here to subscribe.