War Veteran Author's New Book Offers Insights on Prayer
Allie Martin

AgapePress

2004

21 May

COMMENTS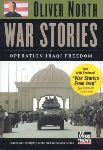 A best-selling Christian author and former Marine says many of those serving in the Iraqi war are leaning on their faith in God to carry them through tough times.

Retired Lt. Colonel Oliver North is the host of "War Stories" on FOX News Channel. He has spent several months in Iraq throughout the war, filing reports focusing on those who carry out their duties as part of the ongoing U.S. military campaign there.

The veteran military expert also offers a detailed frontline account of Operation Iraqi Freedom, which he covered as a war correspondent for FOX, in his recent book, also titled "War Stories." That book includes full-color photo and comes with a DVD that contains stirring video highlights from North's frontline coverage of the war in Iraq.

The former Marine and frontline journalist says there are many bold Christians serving their country proudly in Iraq. He explains that the troops understand the complexities of freedom and democracy that they are defending first hand.

"They have been through the crucible of America's cultural war in the last decade. They were in elementary and high school when we were fighting over whether you could pray at a football game or have a rally around the flagpole or say the words 'under God' in the Pledge of Allegiance," North says.

"They're now in the heat of combat," the veteran soldier goes on, "and they may be able to take profanity to the level of a new art form. And yet, they are also young men who will, in a moment, sit down with their mates before a combat operation and pray."

North, who served as the honorary chairman for the recent National Day of Prayer, believes many Christians have a faulty understanding of prayer. In his new book, "True Freedom: the Liberating Power of Prayer" (Multnomah, 2004), North says if believers are to pray effectively they must first surrender everything to God.

"A lot of us think that we're so self-reliant," North says, "and I was once one of those myself. I was in better shape and tougher and smarter than anybody else around me. And yet, when you really pray and listen, you realize that there are vistas out there that you could never imagine."

In "True Freedom," North gives seven key points describing how prayer can help believers escape disconnectedness, anxiety, and sin, as well as find the freedom to hear God's voice and become what He intended them to be. The author says as Christians learn how to pray effectively, they realize "that God can free you from all the burdens of sin; He can lift the anxiety of what you're going to be doing tomorrow, and how you're going to get it done."

Oliver North is also the editor, along with Sara Horn, of the book "A Greater Freedom: Stories of Faith from Operation Iraqi Freedom."



© 2004 AgapePress.  All rights reserved.  Used with permission.