Weird & Gross Bible Stuff - Book Review
Whitney Hopler

Live It Editor

2003

17 Mar

COMMENTS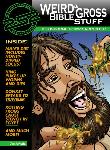 Authors:   Rick Osborne, Ed Strauss and Quentin Guy
Publisher: Zonderkidz
The Bible is God's Word--a sacred, holy text.  But those who don't crack open its covers much might be surprised to discover that, for all the beauty of its message, the Bible actually contains quite a bit of material that's downright weird or gross.  The new youth book Weird & Gross Bible Stuff highlights that material with unabashed enthusiasm.  And in the process, it effectively motivates kids to open up their Bibles to read more about the passages it mentions.
The book's tabloid headlines (such as "Lions Lunch on New Neighbors" and "Man Pukes Up Worms and Dies") and comic book-style illustrations (full of melodrama) are sure to grab the attention of kids in its target audience (8 to 12 years old), as well as plenty of teens.  The text is fresh and hip, reading as if someone its target age group had written it (even though the book was written by three adults).
Usually, the book manages to maintain an appropriate sense of reverence, but occasionally flirts with irreverence.  For example, the drawing of Jesus with spit hanging out of his mouth is a bit much, even though He did spit on dirt, then use the mud to heal a man from blindness.  And even though God did cause evil people to die, it's still a tragedy, and sometimes the text sounds too jaded and sarcastic when discussing various people's demises.
Overall, though, Weird & Gross Bible Stuff does a fabulous job of showing how exciting the Bible can be.  And along the way, it teaches readers some valuable discipleship lessons (on topics such as prayer, creativity, and integrity) through sidebars that help readers learn from the stories they're reading.  Ultimately, the book encourages readers that no matter how weird or gross a situation is, God will be involved in it because of His great love.

Get 1 Christian Bestseller for FREE, plus FREE shipping.  Click here for details.