What Good Is God? – Book Review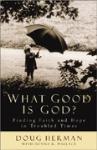 Like James Dobson's legendary book When God Doesn't Make Sense, Doug Herman also proves he isn't afraid to pose some difficult questions about the unexplainable trials people endure.  In fact, in What Good Is God? he even encourages people that "God is not offended by our questions."
Utilizing biblical accounts, anecdotes on the struggles of others and his own experience of losing his wife and young daughter to AIDS following a blood transfusion (and subsequently being asked to leave the church where he served), Herman, along with Donna Wallace, provides plenty of heart-wrenching insight.
While many books of this nature are often quick to provide a spiritual bandage of sorts that doesn't address the intense pain being experienced, Herman and Wallace bravely dive into the messy areas of faith.  Not one-sided skepticism, the book uses passages from the Psalms and quotations from the likes of C.S. Lewis, Dwight Moody and Henri J.M. Nouwen in the margins to offer encouragement.
Adding another helping of relevance is the practical teaching the book provides.  A chapter on forgiveness titled, "How Is Forgiveness Really Possible?" is particularly poignant.  Not a book to be read in a hurry, there's lots to gain by reading it—whether you're currently going through trials and persecution or wondering why life just doesn't seem fair.
Used by permission.  CCM Magazine © 2002