Wild & Wacky Totally True Bible Stories - Book Review
Whitney Hopler

Live It Editor

2002

2 Dec

COMMENTS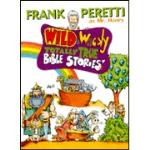 Author:      Frank Peretti
Illustrator:  Bill Ross
Publisher:  Tommy Nelson
Wild & Wacky Totally True Bible Stories lives up to its name, telling familiar stories with enough of a humorous edge that most kids should pay attention.  And that's no small feat--especially when so many of the stories deal with serious issues.  Author Frank Peretti, writing as the everyman character "Mr. Henry," succeeds in most of his attempts to elicit laughs without becoming too irreverent.  And the engagingly expressive illustrations created by Bill Ross highlight the human foibles that provide most of the stories' humor.
Peretti and Ross present 27 Old and New Testament stories, organized around the themes of obedience, faith, trust, courage, prayer, jealousy, forgiveness, the nativity, miracles, helping others, and salvation.  Before each story, Peretti writes one page about an activity Mr. Henry is currently doing that relates in some way to the story.  After each story, Peretti returns to Mr. Henry's activity, summing up the story's message and trying to relate it to modern life.  Sometimes this approach works, but sometimes not.  The concept is great, but the examples Mr. Henry presents are sometimes so contrived as to cause young readers to roll their eyes and shake their heads.  For example, before telling the story of Daniel in the lion's den, Mr. Henry says that he has the actual rock that kept Daniel from escaping the den stuck in his kitchen oven.  Huh?  Surely he could have come up with a more plausible example.
Wild & Wacky Totally True Bible Stories includes an audio CD that tells nine Bible stories in entertaining ways, complete with sound effects.  But it's somewhat confusing as part of the book's package because kids cannot use it to follow along with the printed stories.  Although some of the stories it presents are the same as some in the book, the stories are told differently on the CD.