Women Mentoring Women - Book Review
Whitney Hopler

Live It Editor

2003

25 Feb

COMMENTS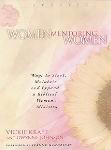 Authors:   Vickie Kraft and Gwynne Johnson
Publisher: Moody Publishers
Anyone hoping to start or improve a women's ministry at church will find a wealth of helpful information in Women Mentoring Women: Ways to Start, Maintain, and Expand a Biblical Women's Ministry, the updated version of the original 1992 book.  Written by two well-qualified women (one serves as a professional minister to women at her church and one is a professional Christian discipleship trainer for women), the book covers just about every detail involved in helping women of all ages grow closer to Christ.
Between its pages, readers will find advice on such topics as women's callings to ministry work, identifying needs among women, assessing the surrounding culture, developing a biblical and effective design for ministry, training leaders, and gauging results.  The material is all quite helpful, but it would have been good to update the sample flyers and brochures in the book's appendices.  Most are several years old, and some contain typos.  Simply copied and inserted into the back of the book, these appendices detract from the book's overall professional presentation.
And despite the impressive comprehensiveness of all its material, the book comes across as being curiously dry in its tone.  Its title suggests a more personable book--one that has more heart.  Although the authors do sprinkle examples of specific women throughout the text, the book is much more of an instruction manual for people working on their local church's women's ministry than an exploration of what it means to develop personal, one-on-one mentoring relationships between women.
Get 1 Christian Bestseller for FREE, plus FREE shipping.  Click here for details.