You Are Talented! - Book Review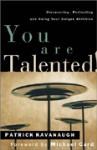 When someone hears the word "talented," a variety of images instantly come to mind:  the star athlete who scores the buzzer-beating shot in a basketball game, a glamorous movie star who effortlessly carries off a difficult role, the singer who not only has tremendous vocal range but can pen hit songs in a matter of minutes.  When measured against these examples, many people feel they fall way short in the talent department.
But in Patrick Kavanaugh's book, You Are Talented!, the author seeks to prove that everyone has God-given talent--even if you're not athletic or vocally adept.  Kavanaugh utilizes Scripture to back up his premise and provides a compelling discussion on the difference between natural and spiritual gifts.
Deeper into the book, the chapters' focus changes from finding your talents to their proper utilization.  Whether for use in accomplishing God's purposes or for personal growth, Kavanaugh's questions at the end of each chapter provide plenty to chew on while providing practical discussion points on how to enrich your life and ministry.
In just over 200 pages, You Are Talented's subject matter manages to cover a lot of ground without rushing through any particular topic or sounding trite like a typical motivational speaker.  With a nice balance of key historical figures who utilized their talents to the fullest despite potential hindrances and biblical references on the subject, reading Kavanaugh's book provides a spark of inspiration that will probably cause you to see your skills in a new light.
Used by permission.  CCM Magazine © 2002