Zig Ziglar's New Book Recounts 'Conversations with My Dog'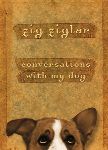 NASHVILLE, Tenn. — To some animal lovers, there is no use trying to dismiss the thought of pets in heaven.
And there are those who like to talk to their favorite critters. Well, on both counts Zig Ziglar is among their number.
Ziglar believes he's learned a lot from his lengthy "conversations" with Laffy Taffy, the family's Welsh Corgi he affectionately calls "Dirty Dog."
The dog moved into the Ziglar household in 1995, shortly before Ziglar's oldest daughter, Suzan, died of a lung-related disease. During that difficult experience, Dirty Dog provided comfort to the family and forged a special bond with Ziglar.
Ziglar decided to write about their friendship and all that he learned from Dirty Dog in his new book, "Conversations with My Dog." Broadman & Holman of LifeWay Christian Resources, part of the Southern Baptist Convention, released the book with Ziglar and Dirty Dog as "coauthor."
Ziglar, who has penned 17 books, including "See You at the Top," "Life Lifters" and "Confessions of a Grieving Christian," explained to his readers why he chose to write a book such as this one: " ... it gives me the freedom to move in many different directions."
Ziglar's candid conversations with Dirty Dog cover a variety of topics from friendship, forgiveness, death and divorce – and how Dirty Dog wanted leg extensions to make him taller and more intimidating. There's also a chapter-long plug for the Boy Scouts and the importance of being an organ donor.
Most of Ziglar and Dirty Dog's in-depth conversations occur on their regular neighborhood walks. Many of the discussions sound like ones the reader might have with God in the privacy of his or her prayers. Others sound more like ones overheard between a curious child and a parent.
"Well, Dad, I keep hearing people talk about 'Happy New Year' and 'New Year's resolutions,' and things like that," Dirty Dog says in the book. "What do they mean by 'New Year's resolutions?'"
The book really is about relationships, Ziglar noted. He mentioned a study that concludes how "relationships are more important to our physical health than the foods we eat, the exercise program we are on and even the genes we have inherited."
"Relationships are what make life worth living," Ziglar said. "Take good care of yours."
Ziglar explained to Dirty Dog that his relationship with Jesus Christ is the most important one he has. It's a relationship that he hopes others will welcome into their life.
"Being a dog does inhibit Dirty Dog's ability to understand spiritual things to a degree, but God made you and me with a built-in desire to know Him," Ziglar writes.
The conversations with Dirty Dog eventually turn to heaven, and if he will make the cut. Ziglar writes how he couldn't imagine heaven without his four-legged companion.
"You're so much fun here that I just believe there's a place for you up there," Ziglar said.



© 2005 Southern Baptist Convention, Baptist Press.  All rights reserved.  Used with permission.