45th Annual GRAMMY Awards Nominees Announced
Laura MacCorkle

Senior Editor for Fun

2003

7 Jan

COMMENTS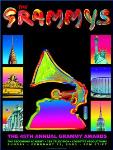 Nominees for the 45th Annual GRAMMY Awards were announced this morning at  Madison Square Garden in New York City.  Eight artists nabbed the most nominations across the board, including Ashanti, Sheryl Crow, Eminem, Norah Jones, Avril Lavigne, Nelly, Raphael Saadiq and Bruce Springsteen. 
Following is a list of nominations within the Gospel field, as well as other nominations from other fields worth mentioning.
---
BEST GOSPEL ROCK ALBUM
Lift
Audio Adrenaline
Forefront Records
The Art of Translation
Grits
Gotee Records
The Way I Am
Jennifer Knapp
Gotee Records
Come Together
Third Day
Essential Records
Momentum
tobyMac
Forefront Records

BEST POP/CONTEMPORARY GOSPEL ALBUM
New Map of the World
Paul Colman Trio
Essential Records
The Eleventh Hour
Jars of Clay
Essential Records
The Christmas Shoes
NewSong
Reunion Records
The Heart of Me
Kathy Troccoli
Reunion Records
See the Light
True Vibe
Essential Records

BEST SOUTHERN, COUNTRY, OR BLUEGRASS GOSPEL ALBUM
How Sweet the Sound:  25 Favorite Hymns and Gospel Greats
The Charlie Daniels Band
Sparrow Records
Everything Good
Gaither Vocal Band
Spring Hill Music Group, Inc.
We Called Him Mr. Gospel Music:  The James Blackwood Tribute Album
The Jordanaires, Larry Ford and the Light Crust Doughboys
Art Greenhaw Records
An Inconvenient Christmas
The Oak Ridge Boys
Spring Hill Music

BEST TRADITIONAL SOUL GOSPEL ALBUM
Higher Ground
The Blind Boys of Alabama
Real World
Walking by Faith
The Canton Spirituals
Verity Records
Live in Charlotte
Twinkie Clark & Friends
Verity Records
Live at Home
Dorothy Norwood
Malaco Records
Bishop T.D. Jakes Presents Woman Thou Art Loosed – Worship 2002
Various Artists
Kevin Bond & Steve Lawrence, producers

BEST CONTEMPORARY SOUL GOSPEL ALBUM
The Commissioned Reunion "Live"
Commissioned
Marcus Cole, Fred Hammond, Mitchell Jones, Karl Reid, Marvin Sapp, Keith Staten, and Michael Williams, group members
Verity Records
Sidebars
Eartha
AFRT Music
Lost and Found
Deitrick Haddon
Verity Album/Zomba Recording Corporation
Speak Those Things:  POL Chapter 3
Fred Hammond
Verity Records
Live and Up Close
BeBe Winans
Motown Records

BEST GOSPEL CHOIR OR CHORUS ALBUM
Be Glad
Carol Cymbala, choir director; The Brooklyn Tabernacle Choir
M2.0 Communications
Family Affair II Live at Radio City Music Hall
Hezekiah Walker, choir director; Love Fellowship Choir
Verity Records
Go Get Your Life Back
Donald Lawrence, choir director; The Tri-City Singers
EMI Gospel
Mighty in the Spirit
John P. Kee, choir director; Victory in Praise Mass Choir
Verity Records
Soul Interpretations
Bobby Champion, choir director; Excelsior
Verity Records
OTHER NOTABLE NOMINATIONS…

BEST POP INSTRUMENTAL PERFORMANCE
"Playing with Fire"
Kirk Whalum
Track from:  Unconditional
Warner Brothers Records

BEST POP INSTRUMENTAL ALBUM
The Power of Love
John Tesh
Garden City Music
The Christmas Message
Kirk Whalum
Warner Brothers Records

BEST ROCK PERFORMANCE BY A DUO OR GROUP WITH VOCAL
"My Sacrifice"
Creed
Track from:  Weathered
Wind-up Records
"Walk On"
U2
Track from:  America – A Tribute to Heroes (Various Artists)
Universal/Sony/BMG/EMI/Warner Bros. Records

BEST HARD ROCK PERFORMANCE
"Youth of the Nation"
P.O.D.
Track from: Satellite
Atlantic Records

BEST METAL PERFORMANCE
"Portrait"
P.O.D.
Track from:  Satellite
Atlantic Records

BEST R&B PERFORMANCE BY A DUO OR GROUP WITH VOCAL
"Love's in Need of Love Today"
Stevie Wonder & Take Six
Track from:  America – A Tribute to Heroes (Various Artists)
Universal/Sony/BMG/EMI/Warner Bros. Records)

BEST FEMALE RAP SOLO PERFORMANCE
"Mystery of Iniquity"
Lauryn Hill
Track from:  MTV Unplugged 2.0
Columbia Records

BEST COUNTRY COLLABORATION WITH VOCALS
"Will the Circle Be Unbroken (Glory, Glory)"
Nitty Gritty Dirt Band, Taj Mahal, Alison Krauss, & Doc Watson
Track from:  Will the Circle Be Unbroken, Vol. III
Capitol Records

BEST MUSICAL ALBUM FOR CHILDREN
Big Songs for Little Kids – I Feel Like Praising
Various Artists
Brian Green, producer
Brentwood Records