4HIM Vocalist Makes a Promising Solo Foray with "One"
Andrew Greer

CCM Magazine

2005

22 Mar

COMMENTS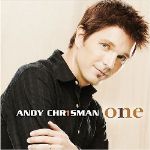 Artist:  Andy Chrisman
Title:  One
Label:  Upside Productions
As a founding member of Christian music mainstay 4HIM, Andy Chrisman is branching out on his own, if temporarily, to offer up a new batch of songs with his aptly titled solo debut, "One."

Having garnered eight Dove Awards, 22 No. 1 radio singles, a GRAMMY nod and one gold album with 4HIM, Chrisman pays homage to the group's history and makes propitious attempts to marry 4HIM's mass appeal with his solo experience of leading intimate worship each Sunday at his home church in Florida.
Quite possibly the most distinctive voice of the veteran foursome, Chrisman combines radio-ready proclamations of faith with worship-induced tunes, offering a meal of music to satisfy different tastes. From the opening profession of "I Believe" to the reticent beauty of the closer, "Love Remains," the definitive star of this album is Chrisman's crystal clear vocals.
Songs remain upbeat throughout, keeping "One" from falling into a trance. Though production is strong and delivery is, at times, impeccable, the songs occasionally yield to trite lyrics and cliché sentiments. No matter, whether purchasing as a longtime 4HIM fan or looking for something restorative to fill your CD collection's void, "One" will remind you of why Andy Chrisman has had a prominent presence in this business for almost two decades.

© 2005 CCM Magazine.  All rights reserved.  Used with permission.  Click here to subscribe.