A Couch Potato's Dream Concert on "The House Show"
David Jenison

CCM Magazine

2004

11 Sep

COMMENTS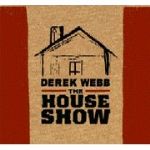 Artist:   Derek Webb
Label:   INO
Every touring act faces the same challenge: namely, unhinging people from their TV-fronted sofas long enough to enjoy a good concert. Derek Webb, knowing most people's addiction to sofa butt, decided to embrace the hurdle by shunning concert halls in favor of living room performances — about a 100 of them to be exact. Webb recorded one such evening in Mobile, Ala., last November for this new live album, which he titled "The House Show" because, apparently, "Sweet Home Alabama" was already taken.
With the solo bow "She Must And Shall Go Free" early last year, the Caedmon's Call alum felt no setting could be more intimate than a person's home — and not just because the 50-plus in attendance would share two bathrooms, at best. Rather, the home setting broke down the walls between artist and audience. And while there's no substitute for actually being there, "The House Show" certainly captures the free-flowing warmth that enlivened Webb's performances.
Stuffed with a belly full of 'Bama's best home cooking, the singer belted out several highlights from his debut, including "Take to the World," "Lover" and the title track. Webb, who intersperses the album with extended "sharing" tracks, also incorporated the Caedmon songs "Faith My Eyes," "This World," "Dance," a cover of Bob Dylan's "Every Grain of Sand" and the brand new "I Repent," a mid-tempo confessional of life's daily shortfalls and oversights. Ultimately, this album captures a moment of intimate bonding between artist and fan, which makes "The House Show" a place worthy of welcome.

© 2004 CCM Magazine.  All rights reserved.  Used with permission.  Click here to subscribe.