A Fresh Worship Perspective Found in Ortega's "Shadow"
Jackie A. Chapman

CCM Magazine

2007

23 Jan

COMMENTS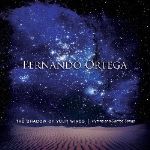 Artist:  Fernando Ortega
Title:  "The Shadow of Your Wings: Hymns and Sacred Songs"
Label:  Curb
Fernando Ortega is a poetic conversationalist. His songs are known to be full of wonder about everyday life and are oftentimes dressed in various sounds of folk, country, classical or pop. His new release, "The Shadow of Your Wings: Hymns and Sacred Songs," however, shows a new sense of wonder for the world about him, one tied strongly to prayerful study of the Bible and devotion.
Responding to the barrage of noise and life around him, Ortega dives into Scripture and liturgy to grieve the loss of loved ones and to find a fresh perspective on worship. He then sets these Bible texts and inspirations to music and writes new sacred songs with a very classical feel, using mostly voice and piano, as on the stirring "Grace and Peace" and "All Flesh Is Like the Grass." The hymns (some ever so slightly rearranged) are part of Ortega's journey, and he uses them methodically without sounding contrived. The new and the old become seamless and create what feels like a shadow of protection.
Produced and mixed by Ortega and GRAMMY®-winning engineer Gary Paczosa (Alan Jackson, Dixie Chicks), the project is further enhanced with numerous special musical guests including Alison Krauss and Susan Ashton and the harmonies of Vince Gill and Dan Tyminski (Union Station). GRAMMY® winners Turtle Island String Quartet give life to arrangements by longtime collaborator John Schreiner on numerous tracks.
Devotion to God is worship of God, and, in a subdued, meditative manner, Ortega creates the right atmosphere in which the listener can reflect on God and commune with God.



© 2006 CCM Magazine.  All rights reserved.  Used with permission.   Click here to subscribe.