A New Sound
Lisa Collins

Senior Music Editor, GospelMusicChannel.com

2008

4 Nov

COMMENTS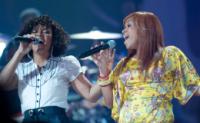 Urban contemporary gospel fans counted down the days until the girls (otherwise known as Mary Mary) were officially back in town (in stores) and no doubt, on top. Already, their recently released The Sound and its pop-infused lead single, "Get Up," which premiered on BET, fueled by a 30-minute special on The Word Network and a high-profile promotional rollout, has greeted gospel audiences as one of the most anticipated releases this fall.

Featured tracks on the duo's first full-length, non-seasonal studio release since the July 2005, RIAA gold-certified Mary Mary, include "God in Me" with Kiki Sheard, the R&B-flavored title cut "The Sound," and reaching back into their traditional gospel roots, "It Will All Be Worth It." In the vein of Gospel Music Heritage Month, the latter track pays homage to—and features—some of their own all-time gospel favorites, including Karen Clark-Sheard and Dorinda Clark-Cole, Tramaine Hawkins, Walter Hawkins, Andrae Crouch, Daryl Coley, and the Mighty Clouds of Joy lead singer Joe Ligon.
Tina and Erica Atkins of gospel's hottest-selling sister duo are promoting more than just a new album, but also a new look and a new Vegan lifestyle (which the ladies say helps give them energy for their busy days).
"Where [Tina, Warren and I] are musically is a place we've never been, naturally and spiritually," says Erica. "As you grow in life and you learn, it's reflected in your music and I can't say I've heard this sound from anybody in gospel.

"It's an amazing body of work," adds Tina. "One song is not indicative of what the whole record is going to be like. You don't know if you are going to worship one minute, pray one minute, run one minute, sit one minute. God did His thing."
In the meantime, the Atkins sisters have lots more in the works including a bath and body line; a series of children's books by Erica, who has also been accepting speaking engagements across the country; TV projects like Sunday's Best (the two served as executive producers); movie soundtracks; and of course their award-winning songwriting.

"God has given us more than just a voice," reports Erica, "and if we don't maximize every opportunity and every moment, shame on us. But He has definitely given us a moment, the opportunity and more gifts that just singing a song, and we just intend to use them. You just never know where you might see Mary Mary."
In Other News
The buzz surrounding Darwin Hobbs' latest release, Free, propelled it to a number two debut—his highest yet—on Billboard's Top Gospel Albums chart.
Dottie Peoples is hoping to do just as well with her recent release, Do It. It's the first offering from Peoples' own Atlanta-based record label, DP Muzik Group. Despite being heavily courted by Malaco Records, Peoples opted for more control of her creative brand.
Nearly three months after the accident that claimed the life of his wife and grandson, the Godfather of gospel, Rev. Timothy Wright, is still unable to walk, eat or breathe on his own, but his request to go to church was granted. Donnie McClurkin, Hezekiah Walker and John P. Kee were among those on hand to greet him—and with the help of the hospital staff—he visited a Brooklyn, New York church. Still paralyzed from his neck to his waist, he is making progress with movement in his shoulders and upper arms. Family members are thankful for the outpouring of donations that has helped offset the cost of his stay at the Kessler Institute, one of the nation's best rehabilitation hospitals.

© 2008 GospelMusicChannel.com. All rights reserved. Used with permission.
**This column first published on November 4, 2008.
About Gospel Music Channel
Gospel Music Channel is the fastest-growing network in television and can be seen in more than 40 million homes on various cable systems around the country and on DIRECTV on channel 338. For more information, visit www.gospelmusicchannel.com.