A Solid "Try" on Bebo Norman's Fourth Label Project
David McCreary

CCM Magazine

2004

1 Sep

COMMENTS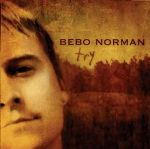 Artist:    Bebo Norman
Label:    Essential
For nearly a decade, singer/songwriter Bebo Norman has impressed music critics and fans alike with his folk-tinged, spiritual musings and warm baritone delivery. It's a relaxed formula that has worked well over the years, garnering him several Dove nominations and impressive album sales.
But, somehow, when listening to Norman's music, one gets the impression that the artist couldn't care less about industry notoriety or the number of units sold. Much of his previous work contained stripped-down, acoustic renderings that seemed better suited for coffeehouses than commercial airplay. Take, for instance, his last effort, "Myself When I Am Real" (Essential), from which only one track ("Great Light of the World") generated any significant rotation on radio.
Continuing in a similar vein is the decidedly organic, acoustic-driven project "Try," Norman's fourth studio release. In many ways the selections found here recall the unobtrusive nature of his earliest work, most notably the independent "The Fabric of Verse." That's not to say Norman has regressed musically; but, rather, that ostensibly he desires to remain true to the essence of his artistry.
Still, there's plenty of freshness about the new record. For the first time, the troubadour employs the resourceful production services of Mitch Dane (Jars of Clay, Kyle Matthews) and Matt Bronleewe (Michael W. Smith, Natalie Imbruglia). In addition, Jars of Clay's Charlie Lowell and Stephen Mason lend their proficient talents on background vocals, as does Norman's good friend Jill Phillips.
Another distinct difference evidenced on "Try" is the absence of expected tracks relating to singleness or longing for romance. It's no coincidence that Norman's affinity for such topics has shifted, given his recent departure from bachelorhood (He married last November.).
Nowadays he mostly ruminates about following Jesus more closely ("Yes I Will"), hiding in God's presence ("Disappear") and allowing the worries of this world to fade away ("Other Side of Day"). These and other ambient, mid-tempo cuts are delivered in Norman's distinctively pensive yet robust fashion, ultimately revealing a richly divine journey.
Although, at times, some familiar chord progressions grow wearisome, softer pieces such as "Nothing Without You" resonate with such beautiful delicacy and simplicity that the listener can't help becoming mesmerized. By design, Norman and his production team have created a restrained yet magnetic sonic template intended to draw the listener in and not let go until the final note is played. And that's exactly what happens each time this disc is spun.

© 2004 CCM Magazine.  All rights reserved.  Used with permission.  Click here to subscribe.