"Abandon" for Fans of New School of Praise
Tyson Shaw

CCM Magazine

2004

12 Jun

COMMENTS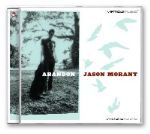 Artist:   Jason Morant
Label:   Vertical

Vertical Music has always been known for introducing artistically compelling and easily relatable worship leaders to the world at large, and its latest signee, Jason Morant, follows in that tradition. The 22-year-old singer/songwriter from New Orleans is sure to be a hit amongst the college crowd as his material ranges from amped-up guitar anthems to momentum-building ballads of fervency.
In terms of vocals, Morant evokes a similarity to what one might hear within the Passion movement, while his lyrical approach is direct, descriptive and dedicated exclusively to praising God. "You Give Me Life" kicks off the disc with pure foot-stomping joy, and "Bless the Lord" steps back a few notches to deliver lush keyboard and acoustic guitar splendor, while "Great Is the Lord" soars with transfixing melodies and stirring build-up. An alternative adaptation of "I Love You Lord" combines  both Morant's gripping immediacy and prayerful focus as does "There Is No One," which is efficiently splashed with a vibrato vocal presentation.
The album wraps up with the sparse delicacy of "I Delight," alluding to yet another interpretive side of this budding minister that lends additional credence to his worship leadership cause. 

© 2004 CCM Magazine.  All rights reserved.  Used with permission.  Click here to subscribe.