Air Proves Becker's Only Gotten Better
Kevan Breitinger

CMCentral.com

2007

26 Dec

COMMENTS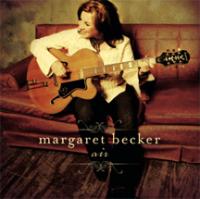 Artist: Margaret Becker
Title: Air
Label: Independent
It is ridiculously easy to like Margaret Becker's 13th album, especially if you thought that time might have caused her to lose her edge. If anything, she has only gotten better. The ten tracks of Air cover some friendly, familiar ground (the wonderfully bluesy rocker "All I Need Is Love" and the glimmering guitars of "You're Still God") and moves into some magical note-bending newness (the richly nuanced "Just Isaac").
I was fired up immediately by the Sheryl Crow-like opener "Coming Up for Air," its country-flaired rock nothing short of a good time, plain and simple, especially with Becker's glimmering guitar pumping out high energy right outta the gate. "Fly" is soulful pop, intricately arranged, featuring her beautifully raw vocals.
A must mention track is the quietly powerful "Said and Done." Edgy string embellishments add texture to this encouraging call to life, and Becker really stretches out on the in-your-face lyrics. Bouncy pop-rocker "Beautiful" is notable for its bluesy undertones, and the strong background vocals add a richness to the worshipful lyrics. Gleaming guitar riffs highlight "You're Still God" over her pure vocals, and the quietly humming "To Be an Indian," thick with throbbing instrumentation, closes out the project on a stellar, haunting note.
I wish I had more information on the players and the credits, but it wasn't easy to come by. Suffice it to say, the creative, lustrous Maggie is baaaaaaaack, and in a big way.




© 2007 CMCentral.com. All rights reserved. Used with permission.



Visit CMCentral.com now and join the single largest online community of Christian music fans on the internet. CMCentral features daily music news, exclusive interviews, album reviews, weekly devotions and feature articles written by some of your favorite Christian artists, and much more. CMCentral is also the home of the most popular Forum for Christian music fans that you'll find anywhere on the Internet. Come see what all the buzz is about!