Ana Laura Impresses on Strong, Self-Titled Debut
Robert Mineo

CCM Magazine

2006

6 Mar

COMMENTS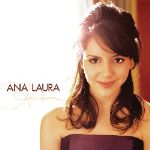 Artist:  Ana Laura
Title:  "Ana Laura"
Label:  Reunion Records
At first glance, 19-year-old, Brownsville, Texas native, Ana Laura may bring to mind young Jaci Velasquez. Yet, as an artist she is more indebted to Kelly Clarkson for making melodic pop fashionable again over the last year.
Listeners already inclined toward this style will most easily plug into "Ana Laura," the debut disc and the artist. But, even rock snobs could not resist Clarkson's "Since U Been Gone," and "Ana Laura" is a listenable and varied collection of crisp Christian pop. 
The gamut here runs from sweeping orchestral ballads ("If You Ever Fall") to slightly edgy rock pieces ("Don't Run Away") to reinterpreted praise and worship ("Giver Of Life"). And, in addition to the aforementioned artists, comparisons to other female vocalists such as Mariah Carey, Rachael Lampa, Amy Lee of Evanescence and Celine Dion, can be made at various points. There is even a remake of Dion's "Because You Loved Me" which, along with "Completely," have already made an impression at Christian radio.
This is not to say that this artist is merely a mimic recycling current trends. The songs – featuring writing contributions from Cindy Morgan, Steve Hindalong, Matthew West and, on one track, the artist herself – are routinely strong and packed with encouraging lyrics. The production is clean as a whistle and the singing displays better than expected command over an impressive set of pipes. There could be a dash more soul in the vocals, which should develop with time, but her tone is much warmer than the iciness of many contemporaries.
Fresh and vibrant, and ready to be a good example to young, female listeners, Ana Laura makes a sure first step toward a long career.



© 2006 CCM Magazine.  All rights reserved.  Used with permission.   Click here to subscribe.