Anberlin Triumphs on Vital
Ed Cardinal

Crosswalk.com Contributing Writer

2012

26 Oct

COMMENTS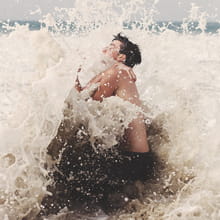 Artist: Anberlin
Title: Vital
Label: Universal Republic
Originally from Florida, alternative rock band Anberlin has clearly proven to be one of the more compelling acts born of the Christian music scene. Crossing over to a mainstream record label, landing tours with Fall Out Boy and Smashing Pumpkins, freshly combining a wide range of rock, metallic, and European pop influences, and never backing down from its core beliefs, the intense quintet continues to grow and impress on this energetically surging sixth album, Vital.
Off the bat, it's easy to compare Anberlin to another recent tour mate, Switchfoot. The opening "Self-Starter" pounds and rushes with heady, rapid-fire lyrics about life, love, and war, a well-bonded creation of immediate pop verses and epic rock chorus. Up next, "Little Tyrants" owes a greater debt to AC/DC or The Cult's "Love Removal Machine" era for its full-throttle pace and fret-tapping guitar solo.

Am I alive? asks lead singer Stephen Christian on that amped up examination of the human struggle with self-absorption. Sure sounds like it! The adrenaline kicks in again on a similarly themed "Desires" where the darker, heavier sounds may resonate with fans of Skillet, Foo Fighters, even Good Charlotte.
The other side of Anberlin's musical coin is evident on "Other Side," an icy '80s-flavored ballad in God's voice with quirky musical elements that bring to mind worthy experimentalists from The Fixx to Radiohead.

Without feeling contrived, the better melodies and rhythms of classic Duran Duran and New Order surface on the honest "Intentions" (I want a love that I don't deserve / I want the gold that I did not earn). Further in, the emotionally tugging, dreamily produced "Innocent" wouldn't seem out of place in a John Hughes film.
Christian's voice also on occasion embraces the melancholy delivery of English groups like Depeche Mode and The Smiths, an interesting approach when singing about eternal hope on the Spanish-flavored "Type Three" or the attention-winning closer "God, Drugs & Sex."

I look to heaven to save me, and you call me naïve / Rather been a hopeless lover than cursed with disbelief, Christian declares on the former. Indeed, there's a special vitality to Anberlin, a great mix of hope, energy, and creativity, too often missing in music today.
SEE ALSO: Matthew West Travels Into the Light
*This Review First Published 10/26/2012