Andrew Peterson's "Far Country" Exudes Intimacy
David Mackle

CCM Magazine

2005

30 Aug

COMMENTS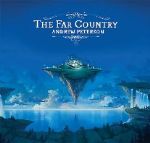 Artist:  Andrew Peterson
Title:  "The Far Country"
Label:  Fervent Records
Fans have always mentioned Andrew Peterson as the heir apparent to Rich Mullins' musical legacy, and not just because he's willing to use a hammered dulcimer every once in a while. Go to any of his concerts, and you'll see that the guy really just loves to serve his listeners through song. His newest album, "The Far Country," exudes a pride-swallowing intimacy that begs you to bend your ear its way and then pushes you toward hope.
Death is one of the disc's obvious plotlines, but so is heaven. "Lay Me Down" bridges the inseparable topics perfectly: "We are not alone/ We are more than flesh and bone/ What is seen will pass away/ What is not is going home." Also planted in the middle of the album are two epic tunes of adventure ("Little Boy Heart Alive" and "The Haven's Grey") and the life that grows out of our ache for heaven. These two songs are the pinnacle of the 10-track project produced by Peterson's genius instrumentalist Ben Shive (Bethany Dillon, Monk & Neagle).
Musically, Peterson employs a full-band sound with electric guitar, drums and bass. Though somewhat new territory for him, this new sound adds plenty of punch to songs like the aforementioned "Lay Me Down," "Mystery of Mercy" and the Mullins-influenced title track which sets the pace for the album musically and lyrically.
However, Mullins comparisons aside, Peterson is writing his own legacy, and you need to hear it.

© 2005 CCM Magazine.  All rights reserved.  Used with permission.  Click here to subscribe.