Anthems, Ballads in the Mix on Who We Are
Andy Argyrakis

CCM Magazine

2007

20 Aug

COMMENTS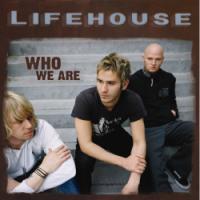 Artist: Lifehouse
Title: Who We Are
Label: Geffen
After striking gold with its debut disc (featuring the smash single "Hanging By a Moment"), hitting a bit of the sophomore slump and then rebounding with 2005's self-titled disc (including hits "You and Me" and "Blind"), Lifehouse's latest continues pointing in the right direction. The inspiring alt-rockers have once again upped the artistic ante, merging a series of stadium shaking anthems with heartfelt ballads and remarkably candid lyrics.
"Disarray" kicks off the disc with jarring guitars and hypnotic distortion, while recalling front man Jason Wade's upbringing in a strict religious household. Rather than blasting those traditions, he honestly assesses teenage struggles of questioning and searching, encouraging listeners to personally sort out their own walks of faith. Even more introspective is the percussion heavy Brit-rocker "The Joke," which addresses an article about a boy who took his life after constant peer ridicule (suggesting that words really can be more damaging than they seem).
Yet, the disc's most poignant reflection is clearly the piano-centered acoustic ballad "Broken," which talks about the emotions Wade's friend faced when awaiting a kidney transplant. When culled together with the disc's eight other inspiring tunes (including the beautiful and blatant praise finale "Storm"), Who We Are touches on a variety of sentiments, expressing hope and healing no matter how rocky the road.




© 2007 CCM Magazine. All rights reserved. Used with permission. Click here to try a free issue.


Check out Lifehouse music videos at Godtube.com.