Anthony Evans Steps into the Spotlight on Soulful Debut
Dan Macintosh

CCM Magazine

2004

31 Jul

COMMENTS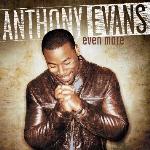 Artist:   Anthony Evans
Label:   INO
Anthony Evans has journeyed with a few larger-than-life personalities, since his father just happens to be Dr. Tony Evans (pastor of Oak Cliff Bible Fellowship in Dallas, Texas, and president of The Urban Alternative), and also because he currently sings backup on Kirk Franklin's concert tours. Now with his debut, "Even More," he himself will receive focused attention.
The biggest roadblock to Evans' potential solo success may involve what seems to be a lack of blatant enthusiasm. Evans vocalizes in a sweetly soulful manner, but he doesn't often capture and command the listener's attention.
That said, a few of these 13 songs do show Evans' charismatic potential. "Be Still" allows him to offer a psalm-like peaceful admonition, and "Unity (We Stand)," features the vocal presence of Kirk Franklin and the always outstanding Crystal Lewis. The opener, "You Know My Name," also stands out for its insistent percussion and Dan Muckala's (Aaron Neville, Mandy Moore) production smarts.
The continuing incorporation of hip-hop into mainstream R&B has made urban sounds a vital part of today's musical climate. Anthony Evans' debut features a sprinkling of these spicy elements, and one hopes they will further define his future work.

© 2004 CCM Magazine.  All rights reserved.  Used with permission.  Click here to subscribe.