Artistic Boldness, Energy Displayed on Inhabited's Debut
David Jenison

CCM Magazine

2005

19 Jul

COMMENTS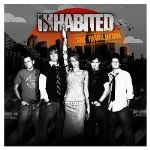 Artist:  Inhabited
Title:  "The Revolution"
Label:  Fervent
The brother-sister duo of Sara and Marcus Acker must have had one rockin' congregation when they formed a church worship band back in 1999. At least that's what one expects from a group that expanded beyond its church walls and became a national act without a national label. Known as Inhabited, the Houston-based rockers landed a Top 10 Christian Rock radio hit with "Rescue Me," a track from its 2003 indie release "Innerview." Eventually signing with Fervent Records, the group re-entered the studio with producer Monroe Jones (Third Day, Chris Rice) to record its official national debut, "The Revolution."
From the start, "The Revolution" unleashes a series of energetic rock songs that highlight Sara's gorgeous vocals and the band's love for big guitar hooks. The lead single, "Open My Eyes," kicks off the disc with guitar interplay that ranges from gentle to industrial-sized, toting fiery lyrics that address finding direction through faith. Their breakthrough song "Rescue Me" follows with more tripped-out guitars and burning vocals that build toward a climatic chorus.
Still, the clear album standout comes from the band's softer side. The acoustic-based "One More Night" tells the tale of a young homeless girl who actually wrote Sara an e-mail about her heartache. The passionate lyrics are on a search for hope amidst a life in tatters. As the song says, "When you cover up your face because they're screaming and yelling at you/ I'm praying."
Though the album starts with a rock focus, "The Revolution" eventually gives way to more mid-tempo numbers before tearing it up again on the album-closing title track. Overall, Inhabited displays artistic boldness and energy on its debut, even if the album title itself couldn't be any more cliché. Still, for these Texas rockers, it seems the revolution really has begun.

© 2005 CCM Magazine.  All rights reserved.  Used with permission.  Click here to subscribe.