Avalon Takes "Stand" With Pop-Rock Punch
Jackie A. Chapman

CCM Magazine

2006

14 Feb

COMMENTS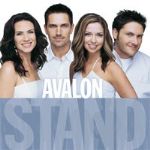 Artist:  Avalon
Title:  "Stand"
Label:  Sparrow Records
Art reflects life. As the seasons of life change, so will the art. Pop vocal group Avalon embraces and applies its refreshed perspective for life to its seventh studio album, "Stand."
By no means is there a vast departure from the signature Avalon sound of high-energy pop music marked with power ballads, but compared to the group's last album, "The Creed," Avalon's fresh perspective, passion and energy permeate the track listing and make Stand a more interesting and varied collection of songs.
Where "The Creed" was ballad-heavy, giving the album a more serious tone, "Stand" keeps the up-tempo numbers moving with better balance. Certainly a tip of the hat for the better flow goes to Avalon's new production team:  Shaun Shankel (ZOEgirl, Mandy Moore), Bernie Herms (Natalie Grant, Casting Crowns) and Mark Hammond (Twila Paris, Nichole Nordeman).
Group members did not take much of a direct hand in the songwriting this time around with only Melissa Greene and Jody McBrayer contributing to one song, "The Other Side." Regardless, these songs take listeners through Avalon's journey – coming through life changes and trials to stand on a larger view of a cosmic God reaching out in love. Avalon celebrates this hope and love in "The Other Side," "Love Won't Leave You" and "Somehow You Are."
A declaration to stand and overcome any test punches through on "I Survive," and the mid-tempo "Jesus" builds like a worship chorus as it expresses thanks to Christ for his vast and unending gifts. Avalon's ballads soar again through orchestrated arrangements: "Slowly" expresses in honest words the process of growing in relationship with God, while new parents Greg and Janna Long, and McBrayer find new meaning in "Orphans of God." A fitting close to the album, a song of surrender, "When the Time Comes," and hymn-like "Where Joy and Sorrow Meet" encapsulate the group's theme.
Avalon derived the album title "Stand" from its cover of the contemporary Christian classic "We Will Stand." The vocal group's rendition includes a new bridge written by original songwriters Russ and Tori Taff, and James Hollihan, Jr., especially for this version. Russ also appears as a guest vocalist on the track.
Vocally, each member gives convincing performances throughout, once again taking four strong vocalists to create one powerful sound. Punching up the pop-rock side of Avalon helps the group return to its high-energy position on "Stand." There's nothing new or unusual here musically or lyrically, but fans of Christian AC/pop will find Avalon's journey enjoyable.

    


© 2006 CCM Magazine.  All rights reserved.  Used with permission.   Click here to subscribe.