"Awaken" CD Bodes Well for Natalie Grant
David McCreary

CCM Magazine

2005

4 May

COMMENTS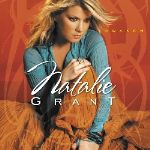 Artist:  Natalie Grant
Title:  "Awaken"
Label:  Curb
Confession time: As soon as I was assigned to review Natalie Grant's new CD, a not-so-flattering, preconceived notion came to mind. Isn't she just another generic-sounding pop diva? But after just one spin of her aptly titled "Awaken" disc, that thought was quickly relegated to "oh-so-mistaken" status.
Following an eye-opening overseas journey and a recent time of spiritual introspection, Grant now releases her most poignant and intimately reflective project to date. Musically and lyrically, "Awaken" propels Grant to an artistic pinnacle that should give her some much-deserved street cred.
Whether it's through the powerhouse praise evidenced on the CD's title track or the piano-driven disclosure of "The Real Me," the album's evocative arrangements convey the heart of someone who confronts reality head on and embraces social responsibility as an integral part of her faith.
One hard-hitting issue Grant tackles is the harrowing problem of human trafficking, not exactly standard Christian music material. But after traveling to India and visiting the appalling red-light district there, Grant was shaken by the experience. Her cathartic rally cry of sorts is found on "Home," a compelling magnum opus featuring the Prague Philharmonic Orchestra. Further admonition comes on "What Are You Waiting For," a catchy, up-tempo track that issues an alert to Christians to abandon complacency and make a meaningful difference for eternity.
Other weighty themes emerge, including self-esteem ("Make Me Over") and personal tragedy ("Held"). Also memorable is gospel-tinged selection "Bring It All Together," a soul-stirring duet about restoration beautifully executed with country music legend Wynonna Judd.
Throughout the disc, Grant's robust vocal delivery shines through brilliantly. Moreover, full-bodied instrumentation and solid production enhance an already stellar effort. Clearly her finest performance, this release certainly bodes well for Grant's continued fruitfulness.

© 2005 CCM Magazine.  All rights reserved.  Used with permission.  Click here to subscribe.