Ayiesha Woods' Debut a Well-Balanced Introduction
Brenten Gilbert

CMCentral.com

2006

20 Jun

COMMENTS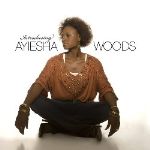 Artist: Ayiesha Woods
Title: "Introducing Ayiesha Woods"
Label: Gotee Records
When the prophet Elisha was cornered in the city of Dothan, he displayed an honorable sense of calm despite what seemed to be a dismal scenario. However, his servant, despite being in the company of this great man of God regularly, lacked the same faith and/or understanding to remain calm in that situation. Complaining that their enemies had them surrounded, this servant showed that he didn't trust entirely in God to be capable or willing to protect them. Elisha simply asked that God would open his servant's eyes to see that God was far greater than any earthly forces.
New singer-songwriter Ayiesha Woods debuts on Gotee Records with a positive vibe and a message for listeners to begin to see things from God's perspective. "Introducing Ayiesha Woods" offers a number of songs that speak to this effect from a few different angles. "Big Enough" addresses the mental misstep of assuming that God isn't in control of the circumstances around us, reminding us that He has been "doing big things since the world began." "Beauty" explores the differences between the world's definition of "beauty" and God's while "Happy" offers a straightforward comparison of various sources of happiness, asserting that only God provides true happiness. Elsewhere, the album discusses the enslavement of a life spent worrying ("The Remedy"), allowing God to direct your life ("The Greatest Artist"), seeking God ("Get to You"), as well as making a plea for listeners to worship.
What really sets apart "Introducing" from other releases, though, is the enjoyable melding of pop, soul, and contemporary gospel sounds creating a musical landscape that is fresh and ever so appealing. Woods lends an endearing vocal that is rich with texture and soulful flavor. The songs range from the gripping ballad "What You Do to Me" to "Crazy," with a distinct taste of reggae, from the poppy "Happy" to the hip-hop laced "Days" encompassing a wide variety of sounds that draws a diverse audience.
By the end of the album, listeners will surely be overjoyed at the opportunity to have been introduced to Ayiesha Woods. "Introducing" is a very well-balanced album that proves to be enjoyable from beginning to end. It should reach a lot of listeners, leaving them all with a smile on their face.


© 2006 CMCentral.com. All rights reserved. Used with permission.

Visit CMCentral.com now and join the single largest online community of Christian music fans on the internet. CMCentral features daily music news, exclusive interviews, album reviews, weekly devotions and feature articles written by some of your favorite Christian artists, and much more. CMCentral is also the home of the most popular Forum for Christian music fans that you'll find anywhere on the Internet. Come see what all the buzz is about!


Watch the latest Ayisha Wood's music videos at her official Godtube.com artist page!