B-Sides, Rarities and Remixes on L.A. Symphony's Unleashed
Anthony Barr-Jeffrey

CCM Magazine

2007

8 Oct

COMMENTS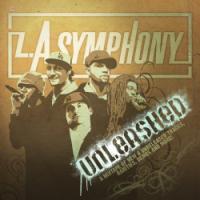 Artist: L.A. Symphony
Title: Unleashed
Label: Syntax
Featuring material spanning the group's 10-year career, Unleashed captures three of the most enduring qualities of L.A. Symphony that have kept them relevant: balanced honesty, the ability to never take themselves too seriously and timeless hip-hop music.
Instead of giving fans a "best of" rehash, the crew hooked up with L.A. hip-hop indie label Syntax Records to unearth a decade's worth of b-sides, rarities, remixes and radio drops featuring all members past and present: FLYNN, UNO Mas, CookBook, Joey the Jerk, Sharlok Poems, Pigeon John, BTwice, Jbeits aka Great Jason, Trendi MC, Coy, Xpress, Gaja and Beond.
Despite personnel changes, L.A. Symphony members have remained committed to putting their whole lives on wax, reflecting a full range of experiences and emotions. LAS has always been the perfect foil to the glut of overly serious Christian rappers, offering embarrassingly hilarious details of real life on tracks like "Tour Bus." Showing their serious side, the group even tackles the real life pain of their listeners ("Girl Interrupted"). Like every LAS release, Unleashed also has its share of real curveballs, like the lighthearted yet deeply sincere praise track "Church," and the oddly effective rock mash-up/remix of long-time fan
favorite "You" from their classic self-released EP, Baloney.
Regarding the beats on Unleashed, this compilation captures the timeless LAS vibe that makes tracks from their self-released debut, Composition #1, as engaging, if not more, than some of their recent Gotee releases. The simple guitar and snare of "All We Know," the slippery '60s funk of "Soul Bros," the driving break-beats of "Get Out of the Van," the buzzing, heavy synths of "Love for the Art" (featuring AWOL One) and the Top 40 gloss of "Universal," (featuring Posdnuos of hip-hop legends De La Soul) somehow all sound natural next to each other.
Not only do these tracks resist feeling dated, but the diversity of sounds on Unleashed is a breath of relief to the sameness found on much of the popular music landscape today.


© 2007 CCM Magazine. All rights reserved. Used with permission. Click here to try a free issue.