"Beautiful" - Music Review
David McCreary

CCM Magazine

2004

1 May

COMMENTS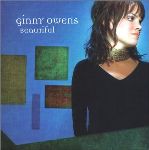 Artist: Ginny Owens
Label: Rocketown
Since entering the Christian music scene some five years ago, Mississippi-born singer/songwriter Ginny Owens has consistently shirked all things ordinary. On her critically acclaimed debut in 1999, she delivered enough refreshingly original material to secure 2000's "New Artist of the Year" Dove Award. She's also been featured in places not common to artists of faith – "Lilith Fair," Sundance Film Festival and National Public Radio.
With that said, it should come as no surprise that on "Beautiful," her third full-length release, Owens unveils an imaginative, delicately tuneful set that stands apart from other recordings of similar ilk. On one end of the scale, the project tilts toward reverent, piano-driven ballads. The remainder weighs in with what Owens calls an "old soul" élan (think R&B coupled with smooth jazz). Once again, Owens wisely taps GRAMMY-winning producer Monroe Jones (Third Day, Chris Rice) and a bevy of talented session artists, such as Scott Denté (Out of the Grey, Nichole Nordeman) and Paul Moak (Amy Grant, dc talk).
With "Beautiful," Owens extends herself beyond familiar sonic terrain, and she's definitely up to the task. Rare are the acoustic leanings or edgy rockers evidenced on her previous efforts. Instead, Owens comes out strong with subtle yet atmospheric arrangements like "New Song," co-produced by Margaret Becker (Kelly Minter), which addresses life's enduring joys and sorrows, and the beguilingly simple "Let Them Hear," a song about living out faith with authenticity. To best capture the essence of Owens' vocal proficiency, picture Tori Amos and Natalie Merchant sharing a cup of Chai tea.
But where Owens sounds most effortless is on groove-filled numbers like "Bread" (Close your eyes and hear a younger incarnation of Nicole C. Mullen.) and "I Love the Way," which sports a captivating bluesy syncopation. These selections and others reveal an artist who pensively considers subjects ranging from self image and peer pressure to God's faithfulness, despite human frailty. And it's all woven into one of this year's most uncontrived, sensible recordings.

© 2004 CCM Magazine. All rights reserved. Used with permission. Click here to subscribe.

You can watch the latest Ginny Ownes music videos at Godtube.com!