"Beauty in the Broken" a Shooting Star Worth Catching
David McCreary

CCM Magazine

2006

6 Jun

COMMENTS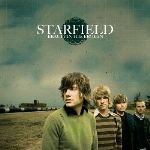 Artist: Starfield
Title: "Beauty in the Broken"
Label: Sparrow
Just when you thought the worship music bins had reached full capacity, along comes another disc vying for your attention. The good news: This is one worth adding to your collection.
Hailing from Canada, but sounding heavily Brit-influenced, worship/rock quartet Starfield hits full stride with its sophomore release, "Beauty in the Broken." A satisfying set from start to finish, the album channels U2 and Delirious by offering dense sound-scapes anchored with ringing guitars, straight-ahead rhythms and shimmering vocals.
The project is crisply produced by veterans Ed Cash (David Crowder Band, Steven Curtis Chapman, Bebo Norman) and Matt Bronleewe (Jars of Clay, Natalie Imbruglia, Michael W. Smith) and reveals a well-crafted assortment of worship-driven rock numbers. From the otherworldly arrangement of classic hymn "How Great Thou Art" to the hook-laden resonance of "The Hand That Holds the World," Starfield takes listeners on an enduring spiritual journey toward hope, reverence and greater dependence on Christ.
When it comes to what sets this disc apart from others of similar ilk, perhaps the most notable distinction is refreshingly heady lyrics. Consider this stanza from beguiling cut "Everything Is Beautiful" – "Even when the tears are falling/ I don't need a miracle to believe/ Even in the crashing down/ I can hear redemption calling."
Elsewhere, Switchfoot-esque standout "Love Is the Reversal" emits verses like "Welcome to the worldwide train wreck/ Welcome to the come undone" that will require more than a passive hearing to comprehend.
In a day when worship music purveyors are as common as reality television shows, consider Starfield one to put on the "must catch" list. And while there's nothing exceedingly innovative about the group from a sonic perspective, it's nice that our neighbors in the Great White North managed to provide a leading light to point us heavenward.


© 2006 CCM Magazine. All rights reserved. Used with permission. Click here to subscribe.


Check out some fabulous music with Starfield music videos at Godtube.com.