Bebo Norman and His Kayak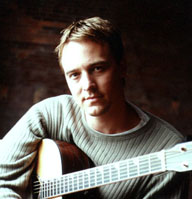 When critically acclaimed Watershed Records singer/songwriter Bebo Norman isn't on stage performing songs from his debut recording
Ten Thousand Days,
he can more than likely be found in his kayak floating down a river -- or going over a waterfall! After non-stop touring since the spring of 1998, Bebo took a break this summer and spent some time in Northern California and Oregon kayaking and writing for his upcoming May 2001 release. It was during this break that Bebo fulfilled his New Year's resolution to go over a 20-foot waterfall in his kayak on the Tulomne River in Northern California.
"The only thing that was going through my mind as I was getting ready to go over the waterfall was 'hold on!'" says Bebo. "It was pretty amazing!"
An avid outdoorsman, Bebo started kayaking in the spring of 1999 and was hooked from the beginning. In addition to the necessities of a tour, such as lights, sound and guitars, Bebo packs his kayak. "The thing that I love most about kayaking is that it is a release for me. It means solitude and quiet, which is opposite of what I do everyday," says Bebo. "It fills me up and allows me to be in the middle of nowhere. It energizes me to do what I do for a living." In addition to kayaking, Bebo has a history with the outdoors, serving for two years as a backpacking guide in Colorado with Young Life.
After some much needed rest and relaxation, Bebo is ready to hit the road again. From his humble beginnings touring on his own and promoting his successful first independent album
The Fabric of Verse,
to performing at venues from Harvard University to the Los Angeles House of Blues with Caedmon's Call, Bebo has established a loyal following. You can catch Bebo on tour with Jennifer Knapp or at a river in a town near you this spring on the "Back Forty Tour".
The college biology graduate turned musician is the first signee to Watershed Records, an imprint of Essential Records, which was founded by Caedmon's Call member Cliff Young. Having now sold over 100,000 copies,
Ten Thousand Days
became the top-selling new artist in its debut week as reported by Soundscan. It also became the No. 3 best-seller on Billboard's Internet Album Sales chart. In addition to garnering wide stateside success, Bebo was also named
Christian music
's best-selling new artist in Europe.
Find out more about Bebos spring tour at www.bebonorman.com.





Youll find more info about Bebo and
Ten Thousand Days
at Crosswalk.com Music.