"Best Worst-Case Scenario" Solid From Top to Bottom
Brenten Gilbert

CMCentral.com

2006

27 Jun

COMMENTS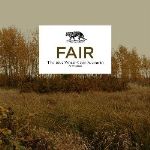 Artist:  Fair
Title:  "The Best Worst-Case Scenario"
Label:  Tooth & Nail Records
If you consider the "original sin" and the implications and results that it had on the rest of humanity, it's a pretty sobering thing. Not only were we removed from God's intimate presence in the Garden, but we have since created a pattern of separating ourselves from God by continuing to sin.

The struggle between appeasing our flesh and appealing to our spiritual nature is an ongoing battle that is fueled by our decisions to chase after the image of self rather than the image of God that is in each of us. Despite our rebellious behavior, God continues to pursue us as His children, with the intention of making us holy.
Headed by veteran music professional Aaron Sprinkle, new group Fair offers an interesting look at this pursuit with their debut release, "The Best Worst-Case Scenario"  on Tooth and Nail Records. The album opens with "Monday" which talks about being led astray and deceived by lies that ultimately lead to separation from God. The album also discusses the struggle to break away from a pattern of sin with "The Dumfound Game" as well as the false hope in trying to delay the consequences that are certainly waiting for us in "Bide My Crime." "The Attic" explores the concept of constantly remembering the way things used to be, while "Grab Your Coat" shares the heartache of having thrown it all away.
The lyrics are very well written and offer a lot to think about as well as a message that's open to interpretation, but equally as impressive is the music backing these thoughts. Avoiding any sense of triteness, the soundtrack offers listeners a very fresh appeal with elements of modern rock as well as some influences of some "classic" rock and roll sensibilities. There's also a distinct indie rock feel to the production as it's a laid back recording with a very warm sound. The combination of Sprinkle's enjoyable vocal work, strong melodies and rhythms that stray from the norm keeps listeners tuned in until the last note. It's a well-crafted album with slight similarities to Copeland or Superdrag.
Fans of Aaron Sprinkle's past efforts will certainly not want to miss this release as it offers lots to celebrate and enjoy. Fair proves to be one of the better new groups debuting this year and "The Best Worst-Case Scenario" is certain to top many lists of favorites. Very solid album from top to bottom. Most certainly worth picking up.


© 2006 CMCentral.com.  All rights reserved.  Used with permission. 

Visit CMCentral.com now and join the single largest online community of Christian music fans on the internet.  CMCentral features  daily music news, exclusive interviews, album reviews, weekly devotions and feature articles written by some of your favorite Christian artists, and much more.  CMCentral is also the home of the most popular Forum for Christian music fans that you'll find anywhere on the Internet.  Come see what all the buzz is about!