Big Band, Sizzling Vocals Flavor Adams' Time
Kevan Breitinger

CMCentral.com

2007

30 Nov

COMMENTS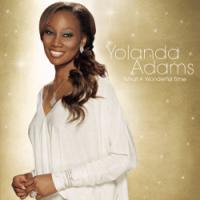 Artist: Yolanda Adams
Title: What a Wonderful Time
Label: Columbia Records
Yolanda Adams really cuts loose on What a Wonderful Time, revealing her sizzling, soaring vocal skills on this, her second album of Christmas music. She's got a big band sound behind her, and together they make What a Wonderful Time one of the year's most interesting holiday projects.
The album kicks off with "My Favorite Things," a song a little too sweet for my taste buds, but with the full orchestration of the Nashville String Machine and plenty of brass, Adams pulls it off. She stretches out a bit vocally on the bouncy Barry Gordy tune "Give Love on Christmas Day," but she pulls out all the stops on the show-stopping title track. Presented in a straight-up big band style, Adams is scatting and swinging like she was born to do it, bringing a sizzle that just won't quit, worth the price of admission alone. I love her jazz-flaired, soulful "Jingle Bells," the brass section quietly supporting her, and the way she personalizes it to her Houston un-white Christmases. Simply put, she tears it up.
Another pleasant feature of Time is Adams' thoughtful attention to those hurting and sometimes overlooked at this time of year. "A Season of Love" encourages families to love carefully, and she speaks straightforward encouragement and hope over glimmering guitar noodling in her original "Hold On." Adams encourages us to show Christmas love all year long over the salsa rhythms of "Just Because," and shows off some fresh phrasing on her simmering, nuanced rendition of "Little Drummer Boy."
She closes out with another original, her quietly pulsating "With God," moving through sweepingly dramatic movements, delivered with passion. If you like a big band sound, or scorching vocals, you must pick up Yolanda Adams' What a Wonderful Time.

© 2007 CMCentral.com. All rights reserved. Used with permission.



Visit CMCentral.com now and join the single largest online community of Christian music fans on the internet. CMCentral features daily music news, exclusive interviews, album reviews, weekly devotions and feature articles written by some of your favorite Christian artists, and much more. CMCentral is also the home of the most popular Forum for Christian music fans that you'll find anywhere on the Internet. Come see what all the buzz is about!