Bluebird EP Good for New and Old Alike
Matt Conner

CMCentral.com

2009

17 Mar

COMMENTS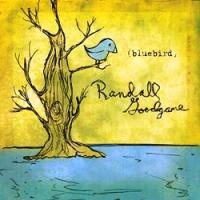 Artist: Randall Goodgame
Title: Bluebird EP
Label: Independent
Songwriter reminds of true talent …
Randall Goodgame can sing. No, really. You are assumedly most familiar with Goodgame's material on various Caedmon's Call offerings, considering he's written 15 of their songs. Then again, it might be the popular children's project, Slugs & Bugs & Lullabies, he created with Andrew Peterson through which you've heard of the Nashville resident.
And since it's been four-plus years since Goodgame last gave us War & Peace, it's easy to forget the keen songwriting skills and tender tenor present here.
Bluebird, then, is a proper introduction for new Goodgame listeners as well as a fond return to form for the Square Peg Alliance member. Themes of leaving and coming home and the geography related to both journeys are heavy on this acoustic release, and the six songs here stand as some of Goodgame's best work to date.
The quick disc kicks off in fun, impressive fashion with the light and lively foot-stomping title track. "Sometimes it takes a bluebird to write a song," sings Goodgame, his imagination inspired by the fowl's ability to say what it needs to say whenever it needs to say it. The doors-flung-open feeling is a perfect opener for the EP.
The bird theme continues on "All the Years" as Goodgame sings, "I used to cage all my fears/But I've grown tired of all the years." It's an easy turn toward this lament from the opening cut, as the Billy Joel-styled ballad swells toward track's end. "Heaven Waits" comes next with the most pristine production on the EP as Goodgame reminds the listener, "America is grand, but it's not the Promised Land."
The EP's true highlight comes with "California," a radio-ready summery ballad that stands as the next to last tune on Bluebird. The story and terrain come alive as Goodgame sings, "We'll drive across America, leaving everything behind/California, California/Seeking fortune in unfortunate times." Closing things out is the street-smart, catchy "Jubilee," which captures an entirely different, carefree side of Goodgame's musical personality.
While Goodgame keeps himself busy leading worship and writing children's work for VeggieTales and other outlets, it's easy to see why it might take another prolonged period before we see another set of "regular" songs from him. So let's appreciate what Bluebird brings us and hope for tomorrow.
© 2009 CMCentral.com. All rights reserved. Used with permission.




Visit CMCentral.com now and join the single largest online community of Christian music fans on the internet. CMCentral features daily music news, exclusive interviews, album reviews, weekly devotions and feature articles written by some of your favorite Christian artists, and much more. CMCentral is also the home of the most popular Forum for Christian music fans that you'll find anywhere on the Internet. Come see what all the buzz is about!

**This review first published on March 17, 2009.