Bring It On - Music Review
Anthony DeBarros

Music Reviewer

2002

23 Nov

COMMENTS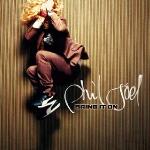 Artist:   Phil Joel
Label:  inpop Records
Bassists are supposed to be the quiet band mates who rarely get any attention. 
Scratch that thought for Newsboys' bass player Phil Joel, who returns to solo waters for the second time with a set deserving of a place alongside his full-time band's work.   Bring It On continues the eclectic but smart power pop from his 2000 solo debut and showcases Joel as a more-than-capable frontman with strong vocals and melodic sensibility.
Though clocking in at a brief 37 minutes, the disc nevertheless covers a lot of musical territory, from the Black Crowes-styled grind of opener "Resolution" to the Brit-pop melancholy of "Passing Angels." 
The latter features gentle piano, strings and lyrics about the end of a life—"We won't say goodbye/this is not the end we know"—that are striking in their restraint.
Used by permission.  CCM Magazine © 2002  Click here to subscribe.
Buy Bring It On now at www.lifewaystores.com!