Brooding Believer Weaves a Web of Wonderful Stories
Andy Argyrakis

CCM Magazine

2006

24 Jan

COMMENTS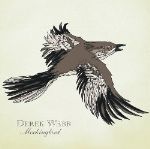 Artist:  Derek Webb
Title:  "Mockingbird"
Label:  Integrity/Sony
Though Derek Webb may be most immediately recognized as a former member of Caedmon's Call, he's made exceptional strides as a solo artist thus far. After he gained momentum for his latest studio CD by releasing the live DVD, "How to Kill and Be Killed," the anticipation finally culminated with "Mockingbird." And like his critically acclaimed past, brimming with brooding lyrics and folk-flavored intimacy, this disc creatively unveils the latest chapter in Webb's complex journal entries.
"My Enemies Are Men Like Me" (complete with a spoken word clip from Martin Luther King, Jr.) is among one of the many compelling expositions tracing how equality, justice and non-violence are essential in today's society. The piano ballad "In God We Trust" further alludes to Webb's social and political ruminations, assessing how the Lord's hand has been with us throughout each stroke of history. The acoustic ease of "A King a Kingdom" is riddled with attention-grabbing metaphors and speaks about having allegiance to our Heavenly Father before any manmade institution.
On a lighter note, "Mockingbird" scoots with jangly guitars and Webb's signature vocals, hearkening back to his days in Caedmon's Call. "Zeros Ones" mixes coffeehouse comfort with piano pop, strewn with powerful poetry only a tunesmith of this caliber could deliver. "Please, Before I Go" provides a haunting amalgamation of gentle guitars, emotive violins and even a xylophone, while the glorious finale "Love Is Not Against the Law" develops a slightly jazz flourish.
As the disc fades out with a message of practical outreach, Webb further settles into his role as the Bob Dylan of Christian music – who only gets better with age.

© 2006 CCM Magazine.  All rights reserved.  Used with permission.   Click here to subscribe.