Building 429 Won't Be Shaken
Glenn McCarty

Crosswalk.com Contributing Writer

2013

11 Jun

COMMENTS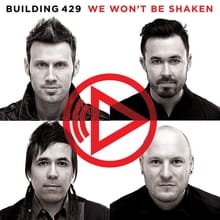 Artist: Building 429
Album: We Won't Be Shaken
Label: Essential
Six albums in, fans know just what to expect from industry vets Building 429. Riding a wave of success from 2011's Listen to the Sound, the band stays true to its core sound on We Won't Be Shaken, a 10-song set that – as the title suggests – is direct in its approach and impassioned in its delivery, mixing a few aggressive numbers into the usual, radio-ready pop anthems. This should ensure more widespread success for the band, already one of the industry's top draws.
Album opener "Get Up" is one of those rousing, crowd-pleasers, its intro as punchy and aggressive as anything on modern rock radio. That sort of adrenaline rush continues throughout "Bonfire," the second track, with lead singer Jason Roy delivering a vocal with a bit more attitude.
The pace levels off for most of the album's middle section, and the overall sound of the album is comparable to the latest by Kutless or Mercy Me. Lead singer and co-songwriter Jason Roy excels at sweeping, singable hooks, which is especially evident on the album's lead single, the title track. Over thumping percussion and handclaps, the verse builds into a determined group vocal on the chorus. No wonder the song's already climbing into the top 10 on the singles chart. There are other tracks expressing the same sort of firm resolution on Shaken: "Set a Fire," which is a touch more acoustic, as well as a couple of call-to-action numbers, including "Revolution." "Blameless" strikes a more confessional tone, and becomes one of the album's more memorable songs.
What We Won't Be Shaken lacks in innovation, it makes up for in passion and intensity. The band and co-producers Rob Hawkins and Jason Ingram keep things humming along smoothly, delivering an album which finds a nice balance of tempos and arrangements. It's a crowd-pleaser with moments of genuine introspection that will provoke listeners to think a bit more deeply. With a band with as devoted a following as Building 429, that should be more than enough to ensure this album not only speaks to its core audience, but provides enough food for thought to keep them eager for the next chapter.
*This Review First Published 6/11/2013