Burning Lights Leads The Way
Amy Hauck

Contributing Writer

2013

14 Feb

COMMENTS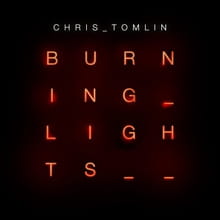 Artist: Chris Tomlin
Album: Burning Lights
Label: Sixsteprecords
Veteran Christian Music Mogul and recent Grammy Award winner, Chris Tomlin starts the year off strong with Burning Lights, an eclectic mix of the old and new with guest vocals from the likes of: Lecrae, Christy Nockels, Kari Jobe, and Phil Wickham. In fact, this album hit the ground running and almost immediately debuted at No. 1 on the Billboard 200. Tomlin is the recipient of 20 Dove Awards, 2 Billboard Music Awards and the most recent addition, a Grammy in 2012. He has been creating new music for over a decade that, according to CCLI, has contributed to much of what is sung in congregations for the last several years. Starting with the Passion movement, he has gained acclaim and success as an artist, worship leader and songwriter with millions of albums sold throughout the duration of his career. Obviously, he has a good thing going.
However, anyone with a "greatest hits" album is already up against a challenge when they come out with something new. Suddenly critics are looking for a newfangled sound, or nuanced production. I found myself doing the same thing when I began listening to this record and found that, though Tomlin has added some sprinkles here and there, this is by and large the same cookie that fans and fellow worshippers have enjoyed for the last several years. Tomlin has consistently and faithfully cranked out songs that resonate, and this album is no different.
The project begins with a smoldering intro that builds into the first song "Awake My Soul" with soulful interludes from hip hop artist Lecrae, that speak of restoration and new life (taken from Ezekiel 37). The anthemic "Whom Shall I Fear [God of the Angel Armies]" follows and was the first single released for radio from this collection. A handful of the songs previously recorded on the Passion: White Flag album are also included in this compilation, as well as the upbeat and celebratory "God's Great Dance Floor" contrasted with a slowly built and beautifully constructed rendition of the hymn "Crown Him With Many Crowns" with Kari Jobe. Burning Lights comes to a close with tunes that accomplish what Tomlin has done well since his musical outset: simple worship songs that point to the Lord and are easily sung in a church setting.
This album has many strengths, but perhaps the best of them all is Tomlin's constant and steady hand to the musical plow in writing new songs, collaborating with friends, and continuing to lead listeners back to the feet of Jesus.
*This Review First Published 2/14/2013