"Carry Away" - Music Review
Anthony DeBarros

Music Reviewer

2003

22 Sep

COMMENTS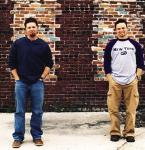 Artist:    Shane Barnard & Shane Everett
Label:  Inpop Records

The two Shanes from Texas follow up their 2002 release, "Psalms," with more acoustic-driven worship. This time around, the theme centers on God as the ultimate source of pleasure and fulfillment. Songs like "Beauty for Ashes" and "Song of Surrender" recognize Him as "the richest of fare" who is "forever so much better than the world." Meanwhile, "Be Near" declares that "Your nearness is to us our good" and admits, simply, "Lord, I need to hear from You."

Barnard and Everett don't stray from the acoustic-folk template of their first album, nor do they need to. With finger-picked and strummed guitar, piano, organ and sparse percussion, the songs communicate the message by way of simple melodies. The Shanes have strong vocals, and Nichole Nordeman lends her vocals on two tracks — a fine bonus.

Ultimately, this isn't the sort of album to come to for clever musicality; it's more like a simple conversation without the clutter. With that in mind, it largely succeeds.

Used by permission.  CCM Magazine © 2003  Click here to subscribe.