Casting Crowns Exceeds Expectations on The Altar
Deborah Evans Price

CCM Magazine

2007

13 Aug

COMMENTS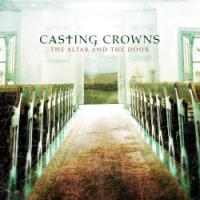 Artist: Casting Crowns
Title: The Altar and the Door
Label: Beach Street
When you've sold millions of records and delivered great singles such as "Who Am I," "Voice of Truth" and "Praise You in This Storm," the arrival of a new album carries a high level of expectation.
The good news is Casting Crowns once again meets and exceeds those high expectations with this compelling new release. Lead vocalist/principal songwriter Mark Hall and his group have made a point to stay grounded in their home church, not letting their music industry success interfere with the foundation of their music ministry; and the wisdom in that decision can be heard in these powerful songs.
As a songwriter, Hall has the ability to create stirring anthems, easily embraced by the masses, and he also has a gift for penning achingly vulnerable, introspective songs that often make individuals feel he's been reading their journals. "Slow Fade," for instance, is a cautionary tale urging believers to make the right choices. The potent hook line states, "People never crumble in a day, it's a slow fade."
The track "The Word Is Alive" is a celebration of the power of God's Word and its impact. "What This World Needs" is a hard-driving number with more of a rock edge than Crowns' usual radio fare that boasts an in-your-face lyric about the current state of our society. "Prayer for a Friend" is a sweet, simple song of intercession with a pretty melody and heartfelt vocal performance by Hall. The title track is the type of radio-friendly yet lyrically substantive song that has propelled Casting Crowns' career thus far.
With this new set, Hall and his companions again deliver songs that are musically engaging and lyrically insightful. The band has a gift for being entertaining, challenging, thought-provoking and encouraging all within the course of one finely crafted album. Few acts more eloquently capture the complexities of being a Christian in today's tumultuous world, but these fine folks continue to help light the path for the rest of us.

© 2007 CCM Magazine. All rights reserved. Used with permission. Click here to try a free issue.