Casting Crowns Keep the Bar Set High on "Lifesong"
David McCreary

CCM Magazine

2005

27 Sep

COMMENTS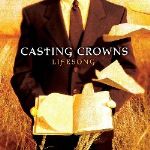 Artist:  Casting Crowns
Title:  "Lifesong"
Label:  Reunion
The improbable success of Casting Crowns ranks as one of the biggest stories in Christian music history.
Here's a seven-piece church praise band-turned-AC/pop-rock ensemble that struck gold … er, make that platinum (sales of one million copies) with its 2003 self-titled debut. The group also holds the distinction of being the fastest- selling debut Christian artist in the modern era. Songs "If We Are the Body," "Who Am I" and "Voice of Truth" topped industry charts for weeks on end.
What's more, earlier this year Casting Crowns and front man Mark Hall hauled in an impressive seven GMA Music Awards, including wins for Group of the Year, Song of the Year and Songwriter of the Year.
Talk about raising the bar. Fortunately, the band keeps it high on sophomore studio release "Lifesong." Staying true to their approach of assimilating crisp melodies, forthright lyrics and stout vocals, the Crowns effectively blend uptempo worship anthems and emotive ballads for another well-balanced set.
The title track kick-starts the disc with a powerhouse praise number that points believers toward honoring God in all they do. Further in, rollicking cut "Set Me Free" reveals urgent guitar riffs and driving rhythms that suggest something Third Day might proffer.
Not one to pull punches lyrically, Hall fuels much of the project with indictments against hypocrisy and piousness in the church. To wit, the softer cadence of "Does Anybody Hear Her" doesn't diminish the hard-hitting message that condemning others is wrong ("If judgment looms from every steeple/ If lofty glances from lofty people/ Can't see past her scarlet letter/ And we've never even met her").
While at times selections such as "Love Them Like Jesus" and "In Me" closely evoke Steven Curtis Chapman (co-producer of Casting Crowns' first album), most of the songs resonate with freshness, a testament to Mark Miller's production savvy and Hall's distinctive ingenuity. 

© 2005 CCM Magazine.  All rights reserved.  Used with permission.  Click here to subscribe.