CCM Hall of Fame: 2nd Chapter of Acts
Michael Ciani

CCM Magazine

2004

6 May

COMMENTS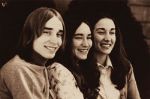 "God works in mysterious ways, His wonders to perform" as the William Cowper hymn goes. And sometimes those mysterious ways involve great pain for His children. In 1970, following the death of their mother from a brain tumor in 1968 and later their father from leukemia, Matthew and Nelly Ward left their native North Dakota and moved to California to live with their older sister, Annie Herring, and her husband, Buck. It was this heartbreaking cross-country move that birthed 2nd Chapter of Acts, referred to by CCM in 1998 as "one of the most unique and original acts that has ever graced Christian music."
Matthew, 13, and Nelly, 15, soon began harmonizing with Annie, as only siblings can, on her original worship compositions, which led to a few public performances in the early '70s. It was one such performance that caught the ear of popular Christian entertainer Pat Boone. Boone's connections soon landed the newly christened 2nd Chapter of Acts a deal with MGM for the release of two singles, "Jesus Is" and "I'm So Happy."
Though MGM didn't release a full album from the group, it was enough to attract the attention of Billy Ray Hearn's new label, Myrrh Records, which signed the three siblings to a record deal. The group's first album, "With Footnotes," garnered an enthusiastic audience. In fact, in 2001's CCM's 100 Greatest Albums in Christian Music the author described Matthew's soaring tenor voice by saying he "sang with more blue-eyed soul at 13 than most do in a lifetime."
"Footnotes" included "Easter Song," which was named by CCM in 1998 as the No. 4 Christian song of all time. Though little more than two minutes in length, the song packed quite a punch. Despite its blatantly faith-driven lyrics ("Hear the bells ringing/They're singing that we can be born again/Joy to the world/He is risen, hallelujah!"), it managed to get played on Christian and mainstream radio alike and remains a classic some three decades later.
The group went on to achieve much success over the years, drawing comparisons to everyone from ABBA to Queen because of its tight vocal blend and harmony. The Billboard Guide to Contemporary Christian Music later said in 2001 that 2nd Chapter's style was a "hybrid of old-fashioned hymnody, 1970's-era hard rock and American theater music." The group toured extensively, eventually crossing the United States and heading overseas as well. During the course of 16 albums and 17 years, Matthew and Nelly each contributed to the songwriting process, but Annie served as the primary songwriter for 2nd Chapter. (She once said, "I'm not a songwriter; I'm a song receiver. I start playing, and the music comes.")
Very firm in its mission to serve the Lord through music, 2nd Chapter of Acts never wavered from what it believed to be its calling. Both Matthew and Annie turned down offers from major general-market record companies during their careers because they felt it wouldn't be the right fit. (Over the years, Matthew has sung with superstars Donna Summer and LeAnn Rimes and dueted with Leslie Phillips in 1984 on her hit "By My Spirit.")
In 1988, arguably at the top of its game following two successful "Hymns" projects, 2nd Chapter of Acts felt God's prodding for the group to retire. After a farewell tour, Annie and Matthew continued to do solo projects (as they had been doing for some time), while Nelly Ward Griesen settled into her family life. Matthew survived a triple diagnosis of cancer in 1994, undergoing treatment for two years before being given a clean bill of health in 1996. 
For more information, visit 2ndChapterofActs.com, matthewward.com and annieherring.com.

Essential 2ndChapter of Acts
"How the West was Won" (Myrrh, 1977):
Only the second live album of the contemporary Christian music era, CCM's 100 Greatest Albums of All Time proclaimed the ambitious project "daring."
"Mansion Builder" (Sparrow, 1978):
The title track was named one of the "Top 100 Christian Songs of all Time" by CCM in 1998.
"The Roar of Love" (Sparrow, 1980):
Billboard's Guide to Contemporary Christian Music later referred to the project as a "Christian rock operetta of sorts."
"Hymns" (Live Oak, 1986):
This won the group their sole Dove Award in 1987 for "Praise & Worship Album of the Year."

Some of 2nd Chapter of Acts' Most Well-Known Songs
"The Easter Song"
"Mansion Builder"
"Rejoice"
"Humble Yourself"
"Yahweh"
"Which Way the Wind Blows"
"Bread of Life"
"Takin' the Easy Way"

© 2004 CCM Magazine.  All rights reserved.  Used with permission.  Click here to subscribe.