Christmas in Black and White - Music Review
David Schrader

Music Reviewer

2002

26 Nov

COMMENTS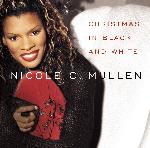 Artist:   Nicole C. Mullen
Label:   Word Records
Led by a nod to her own integrated family in the title, the Gospel Music Association's reigning "Female Vocalist of the Year" offers one of the more colorful holiday albums in recent memory with Christmas in Black and White.  Far from predictable, Nicole C. Mullen's first seasonal set doesn't ring any jingle bells, but leans heavily on a melting pot of original songs, spoken word selections, and an open door guest policy that welcomes everyone from her father to Phil Keaggy.
Known for believable ballads, Nicole successfully revisits the soaring-chorus formula behind "Redeemer" on "Lamb of God," creating strong potential for a new choir-ready classic.  For "Merry Christmas, Baby," she writes a soft-as-snow melody that speaks to both sweetheart and newborn Savior. 
Diversity abounds elsewhere in ways adventurous listeners should enjoy; though December purists may deny.  Dance-flavored "365" aims for as many beats per minute, but provokes real thought with the line, "I would love for Christmas to stay 365 days/ No one dear would be far away."  The horns and percussion of "Sacred Night" favor Santana, while "God's Own Son" is a funky Dixieland dirge, yet both cuts find familiarity by segueing into public domain favorites.  Best is "Gifts from You," its blues-y acoustic guitar and African drum driving a fun, loose-wheeled family jam where the kids get to shine.
Traditionalists might favor Mullen's duet with dad Napoleon Coleman, Jr. on "The Christmas Song;" his performance would make Nat King Cole proud.  "O Come, O Come Emmanuel," laced with Keaggy's guitar work, is more simply satisfying as well.
Two spoken word tracks, the title one and "St. Nick's Groove," tell the stories of Christ and St. Nicholas with intrigue and brevity; great for personal listening, but probably too quirky for the office party.
And so it is with all of Christmas in Black and White.  This highly creative, talent saturated project is ripe for enjoyment and acclaim, but it's somewhat conceptual ambition keeps it out of the no-risk Yuletide pile.