Christmas with...Chris Tomlin
Chris Tomlin

2002

10 Dec

COMMENTS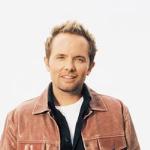 Favorite Christmas carol…
I love "O Holy Night". 
That song moves me every time I play it, or every time I hear it sung, or every time I sing it. 
It's just that "Fall on Your Knees" verse--I get the whole picture in my mind, I get a picture of the birth of Jesus, I get a picture of the cross, I get the picture of the Kingdom and throne and people falling down.  Just thinking about it right now gives me chills.  I love it.

Favorite Family Tradition…
We love to go look at lights as a family, that's always fun. 
I love being able to be with all my family--grandparent and aunts and uncles--who all live relatively close. 
Christmas is a time when I don't have to fly or travel to see one side of the family--we always get to see everybody.  That's my favorite thing.